Order "Live From 3rd & Lindsley, Nashville"
NASHVILLE -- Scott Ramminger's latest album, "Live From Third & Lindsley Nashville," which hit the street Feb. 4, 2022, showcases his versatility as a songwriter, singer, sax man, and live performer.   
Order the record here, or add it to your Apple Music, Spotify, etc. https://orcd.co/liveat3rdlindsley
The album features 10 live tracks, along with a bonus studio track, "Come Valentines Day." The live tracks feature James Pennebaker (Tracks 1-6) and Joe McMahan on guitar (Tracks 1-4), along with Ger Hoffman on bass and Maxwell Shauf on drums. The bonus studio track, "Come Valentines Day," features the legendary Muscle Shoals Swampers Spooner Oldham on keys, David Hood on bass, and Will McFarlane on guitar -- along with New Orleans drum wizard Doug Belote.  
All the songs, including the bonus track, were written by Ramminger. 
"Live From Third & Lindsley" is Ramminger's sixth record since 2011, and the third since he relocated from the Washington DC area to Nashville in 2017.  "I love writing songs, and playing live -- particularly my own songs.   I also really liked listening to live records.  I like the immediacy of them. The feeling that a tune might kind of scrape the guardrails at certain points and somehow get back between the lines," he said. 
"I'd been playing gigs around Nashville for a few months with these guys -- some of my favorite players in a town full of great players --  by the time these gigs were recorded. We had started to develop the Vulcan Mind Meld you get after a while of playing with the right guys. A lot of it unfolded organically," Ramminger said.  "With just drums, bass, guitar, and me, you can really hear everyone clearly. You can hear us responding to each other on stage, and hear the audience responding to us. Nowhere to run, nowhere to hide. And, most importantly, you can hear that we're having fun and that the audience is having fun with us.  Beyond that, Third & Lindsley is one of my favorite venues." 
The bonus track, "Come Valentine's Day," was included to give a taste of Ramminger's upcoming studio record, which he plans to release later in 2022.  "I've been putting off releasing that record for a variety of reasons, including COVID, which definitely has changed things of late radically in the music business.  But I'm not gonna wait past this year.  Also, I put the tune on there because  "Live at 3rd & Lindsley" was coming out just before Valentine's Day, and I've gotten a good response to it live." 

"Live at 3rd & Lindsley" is Ramminger's sixth record since 2011's "Crawstickers," which was recognized as "Debut Album of the Year" by the Washington Area Music Association. His records have received significant radio airplay and excellent reviews in publications including "Downbeat," "No Depression," "Elmore," "Blues Matters," "Offbeat," and many more. His music has been played on Sirius XM's Bluesville channel. His album, "Do What Your Heart Says To," reached the number one position on the Roots Music Report R&B Album Charts and was recognized in several "best releases of the year" lists. 
The Players 
James Pennebaker -- (Guitar, Tracks 1-6) began his professional music career at 19 with Delbert McLinton, has toured extensively with Delbert, and played on eight of his albums. James has also performed with the likes of John Fogerty, Bonnie Raitt, Willie Nelson, Levon Helm, Stephen Bruton, Lee Roy Parnell, Jimmie Dale Gilmore, and recorded with Glen Clark, Pam Tillis. Billy Joe Shaver, Charlie Daniels, Danny Flowers, T. Graham Brown, Gary Nicholson, Flaco Jimenez, Leon Rausch, and Marcia Ball among others. 
Joe V. McMahan -- (Guitar, Tracks 7-10) has performed as a guitarist and multi-instrumentalist with Justin Townes Earl, Lee Ann Womack, K.D. Lang, Allison Moorer, Shelby Lynne, Mike Farris, Webb Wilder, Sarah Siskind, Radney Foster, Shannon McNally, and Kevin Gordon. He has also produced more than 50 records and engineered, mixed, and played on many more. 
Ger Hoffman -- (Bass) Hailing from Michigan, Ger cut his teeth in the Detriot R&B scene and has performed, recorded, and toured with some of the biggest names in the business. Most recently, he spent over ten years in the band of the late country legend, Joe Diffie. 
Maxwell Schauf -- (Drums) A certified groove machine, Maxwell Schauf spent many years touring and recording with blues great Lonnie Mack. He has performed and recorded with a wide variety of other artists as well, including Clay Walker, Jimmy Nails, and Teresa Carlton. 
Players on the Bonus Track, "Come Valentine's Day": This tune was cut at Jimmy Nutt's fine Nutthouse studio in Muscle Shoals and features Swampers Spooner Oldham (keys), David Hood (bass), Will McFarlane (guitar), and New Orleans drum wizard Doug Belote. 
Tracks 
Thinking About You (5:15) 
Living Too Fast (5:05) 
Someone New To Disappoint (4:51) 
Daisy (4:05) 
Lemonade Blues (7:03) 
Walk A Little Straighter (5:06) 
I Really Love Your Smile (4:42) 
More Than One Flavor (4:46) 
It's Hard To Be Me (4:04) 
This Town's Seen The Last of Me (4:25) 
Come Valentines Day (Bonus Studio Track) (4:41) 
At Papa Turney's in Nashville Every Thursday at 5:30 
I'm at Papa Turney's BBQ at Nashville Shores Marina -- on beautiful Percy Preist Lake -- every Thursday from 5:30 to 7:30 pm.  Sometimes I'm solo.  Sometimes doing the duo thing with a pal.  Sometimes with my band, The Temporary Condition.   Fall by sometime.  It's always fun!!!
Working on a New Studio Album
I'm getting serious about finishing a studio record I've been working on for the last couple of years.  It's starting to come together, and I am hopeful that it's going to be my best effort yet.   Stay tuned, because I'm going to be dropping a track or three over the next couple of months. (And I just included "Come Valentine's Day" as a Bonus Studio Track on my "Live at 3rd & Lindsley, Nashville" CD, out Feb. 4, 2022.)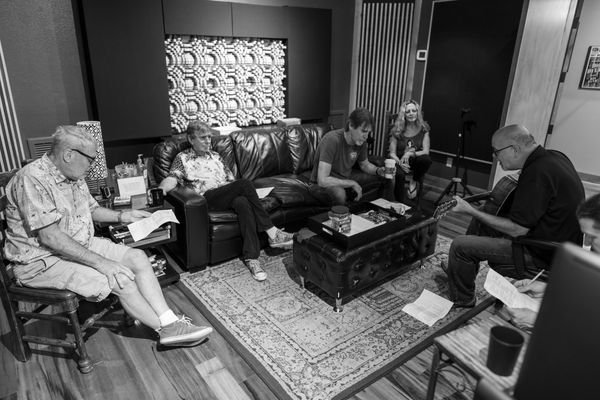 David Hood, Spooner Oldham, Wil McFarlane, Doug Belote (not shown), and Jan Cronin listen to me demo one of my tunes.
My pal Doug Belote called to tell me he was going to be in Nashville just before Christmas a couple years back. Doug is one of my favorite drummers on the planet.  He's from Louisianna and lives in New Orleans.  He decamped to Nashville for a couple of years, post-Katrina. He plays with Jerry Douglas, and he's recorded and toured with all kinds of people, from Ernie K. Doe to Dr. John, Alan Toussaint, and Sonny Landreth, to name a few. When he was living in Nashville, he was in Jack Pearson's band, which says a fair bit in itself.  
I had a couple of half-finished things lying around, and an "idea box" full of hard-to-decipher notes on the back of old junk mail. Doug coming through town seemed like a good reason to get to work on some songs. So I booked some studio time at a cool place in Berry Hill here in Nashville, and hunkered down and banged out a bunch of songs over the course of about a month.  
We cut six of my tunes in as many hours on a Sunday, the day before Christmas Eve.  Besides Doug, that session featured  Paul Ossola, who played bass with Levon Helm, and in GE Smith's Saturday Night Live Band;  Tom Britt, a guitar slinger best known for his many years with Vince Gill; and Dennis Wage, a monster keyboard man who has played with Delbert McClinton for years, and with folks like Leroy Parnell and T. Graham Brown.
The six songs I cut on that session weren't enough to fill a  record. So I knew was going to go back in the studio somewhere. For many years -- since meeting the legendary Spooner Oldham -- I've been plotting to record in Muscle Shoals. At the top of my "get" list for the session were Spooner and David Hood, two of the original Swampers -- a nickname given to one of the hottest studio groups in popular music, then or now. Google them.  And I was lucky enough to get them both.
Spooner is a humble musical genius who is a writer's writer -- and player. He has a keyboard style all his own.  Not only has he written some of the most iconic songs of a generation, but also played on recordings and live performances for people like Aretha Franklin, Bob Dylan, Neil Young, and many, many more. 
David Hood is one of the most recorded bass players in history and a founder of the legendary studio, Muscle Shoals Sound.  He's got so many credits, listing them means wondering who to leave out.  These guys have the special mojo.  The secret sauce. On top of that, both he and Spooner are both extremely nice guys and a pile of fun to record with. 
The two days in Muscle Shoals were rounded out by guitar man Will McFarlane, who, among other things, held down the guitar chair with Bonnie Rait before becoming a session guy in the Shoals. Doug came up from New Orleans to anchor the whole thing on drums.  The chemistry between a drummer and the bass player is the secret sauce that makes tracks.  And Doug hooked up with both Paul and David like he had been playing with them all his life.
We cut 11 tracks in two days at the Nutthouse, Jimmy Nutt's extremely cool studio in Sheffield, Alabama.  It's in an old bank building. The old bank vault is just off the main tracking room.  And Jimmy is a great engineer.
If all that is not enough,, I have a couple of tracks I've been hanging on to from a session I did a while back in New Orleans.  Those feature Doug on drums.  On bass is George Porter Jr of Meters fame.  On guitar, Shane Theriot, who produced Dr. John's last album, plays with Hall & Oates and holds down the Music Director chair on "Live From Daryl's House," and did a  long stint with The Neville Brothers, etc. etc.  On keys, New Orleans legend David Torkanowsky, who has played with everyone from Nat Adderly to Irma Thomas.
If I can't make a good record out of that, I should hang it up!   So stay tuned.  And I look forward to playing some of this new material live when things get closer to normal!